Relaxing in Cartagena, Colombia
With a bit of time on our hands, hubby and I were able to jet away for a few days on a mini-vacation in Cartagena, Colombia. It was a fascinating trip! We mingled with an international mix of people, including a Colombian telenovela scriptwriter and his family, our Air BnB host and commercial photographer Olga, and a trio of ladies from Belgium. Through lively conversations during meals, we learned a lot about the history of Colombia, the historical root and current context for the narcotics war against the rebel FARCs, and local hopes and fears for the future of the country. We also talked a lot about Korea, Brexit and U.S. politics (the general sentiment among all international folks is one of fear if Mrs. Clinton is not elected).
Colombia is an easy destination from the U.S. East Coast - just a quick two hour flight to Atlanta, then a four hour international flight to Colombia, complete with lunch and never-ending free beverage service. Our Air BnB host arranged a driver for us, who met us at the airport. An hour later, we were checking into Hotel Playa Manglares in Isla Baru, Bolivar, Colombia.
Hotel Playa Manglares, Isla Baru
It is hard to call Hotel Playa Manglares a "hotel"... and Air BnB does not do it justice, either. This place was the highlight of our trip! If you are looking for a secluded, quiet, rustic, tropical get-away, Hotel Playa Manglares is IT! The white sandy beach is divine and the sound of the waves lapping the shore is simply mesmerizing. One afternoon, I laid in a hammock for two hours without a single thought popping in my head. Zen!! The hotel is situated in a bay, so it does not have turquoise blue Caribbean waters. But that also means it is perfectly quiet - no tourists, no boats, nothing but a gentle breeze, moist salty air, and the waves.
As advertised, the hotel is secluded. Other than the resort area, there is no place to walk and no restaurants or shopping nearby. That suited us just fine, since we were there to relax and rejuvenate. Anywhere you want to go, though, Olga will arrange transportation. It can be a bit pricey. Round-trip to Cartagena is about US$80 and takes no less than two hours. Breakfast is included in the price of the hotel room, but lunch, dinner, and beverages are additional expenses. If you do not plan to go into Cartagena, the hotel is your only dining option. Fortunately, the food was delicious and the prices were reasonable at about US$15-$20 per person per meal. The hotel accommodates a variety of dietary needs. While we were there, they served grilled sea bass, nicely-seasoned potatoes, and salad with picante oil and balsamic vinegar for lunch. For dinner, we had pasta with pesto, salad, and ice cream for dessert. My husband also had beef one evening and the staff made me grilled fish instead (since I do not eat beef). Oh! and Olga makes the best mojito that I have ever had! She has ruined all future mojitos for me!
Those iconic turquoise blue Caribbean waters are just 3 kilometers away from the hotel in Playa Blanca. We hitched a ride with our fellow guests and new friends, the Salamores family. They visit Isla Baru and Hotel Manglares frequently and they were adamant that we go super-early before the tourists arrive by the (literal) boatloads around 11:00 a.m. We awoke early and breakfast was served by 7:00 a.m. Breakfast was traditional Colombian foods: guarabana fruit, scrambled eggs and arepo, which are pan-fried corn or yucca flour cakes filled with queso (cheese). Delicious!
By 8:00 a.m., we were at Playa Blanca swimming in warm, clear, green-blue waters on an almost-empty beach. Couple of notes about this beach (and Isla Baru in general). Although the beach is just 3 km away from the hotel, non-locals should not drive. The road is not safe for several reasons - speed of other vehicles, no shoulder or sidewalks, armed private guards/gunman (unclear who/what they were guarding). I will assure you, however, that the beach is ridiculously safe. I would put the tourist:police ratio at about 2:1. There were cops absolutely everywhere and they were vigilant.
The other note about this beach is that you must contend with persistent and numerous peddlers offering everything from massages and body oil rubs to libido-enhancing oysters to jet ski rides. On the flip side, though, you can rent snorkeling gear, beach tent and chairs, and have fresh ceviche for next to nothing!
Just as our Colombian friends warned us, selfie-addicted, cosmetically-enhanced tourists started streaming in by the boatloads by 11:00 am. As they arrived, a local brigade of activists beating a drum and accompanied by police walked the beach, amiably handing out #ColombiaLimpia wrist bands and garbage bags. They were promoting a "clean beach" cause. A better solution might be to simply put trash cans on the beach (?). I read later, though, that a controversial move by President Santos to nationalize garbage collection has not been very successful, so perhaps this is easier said than done.
Old City, Cartagena
We never did make it into Cartagena's actual urban area. Since we had only two real days to tour, we had to choose wisely. Olga arranged a driver to take us to the main tourist attraction -- the Old City, on the outskirts of Cartagena. This tightly compact, walled-in area was the original Spanish fort and colony founded in early 1500's and survives into the modern era. It was also one of largest slave trading ports in the western hemisphere.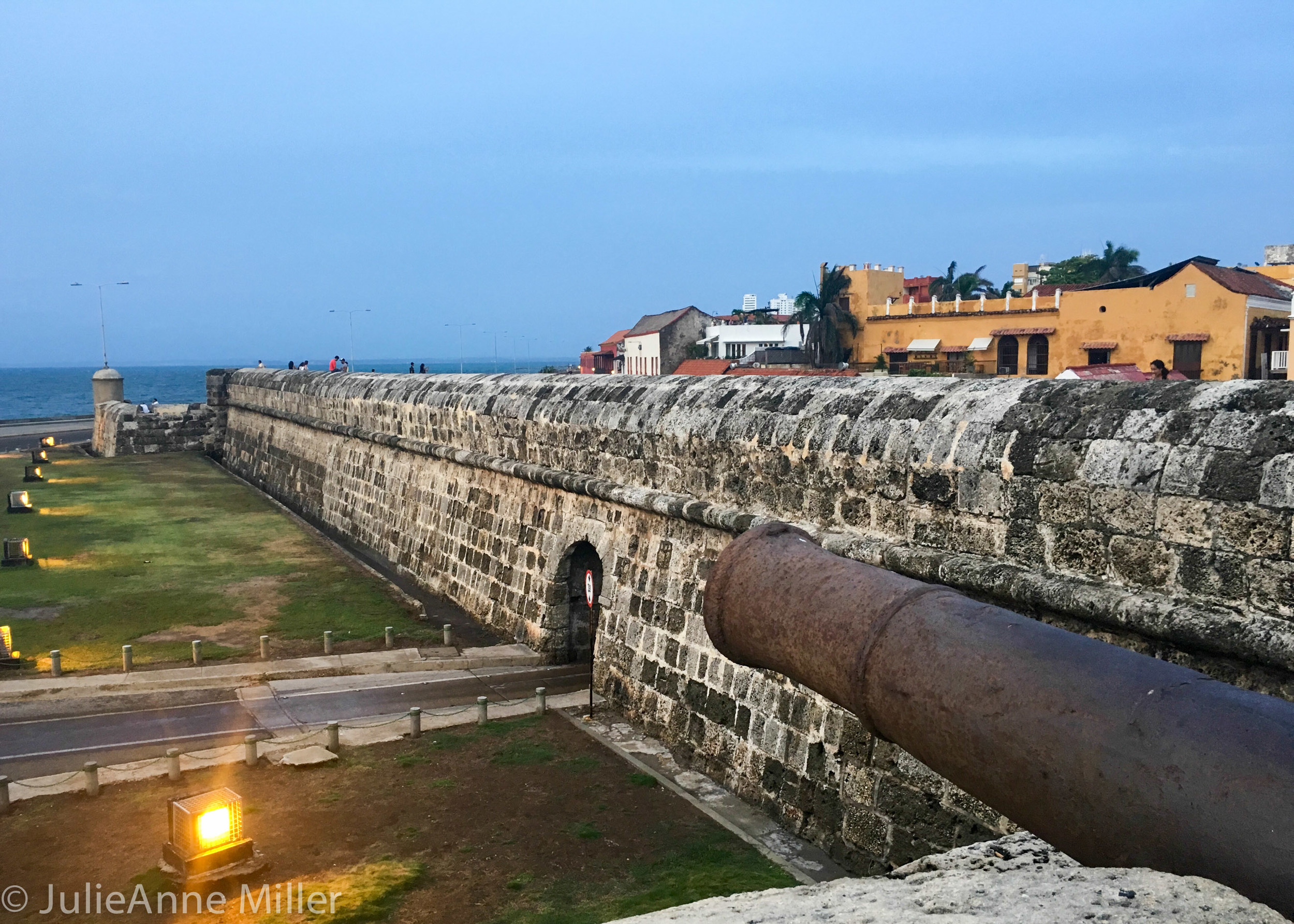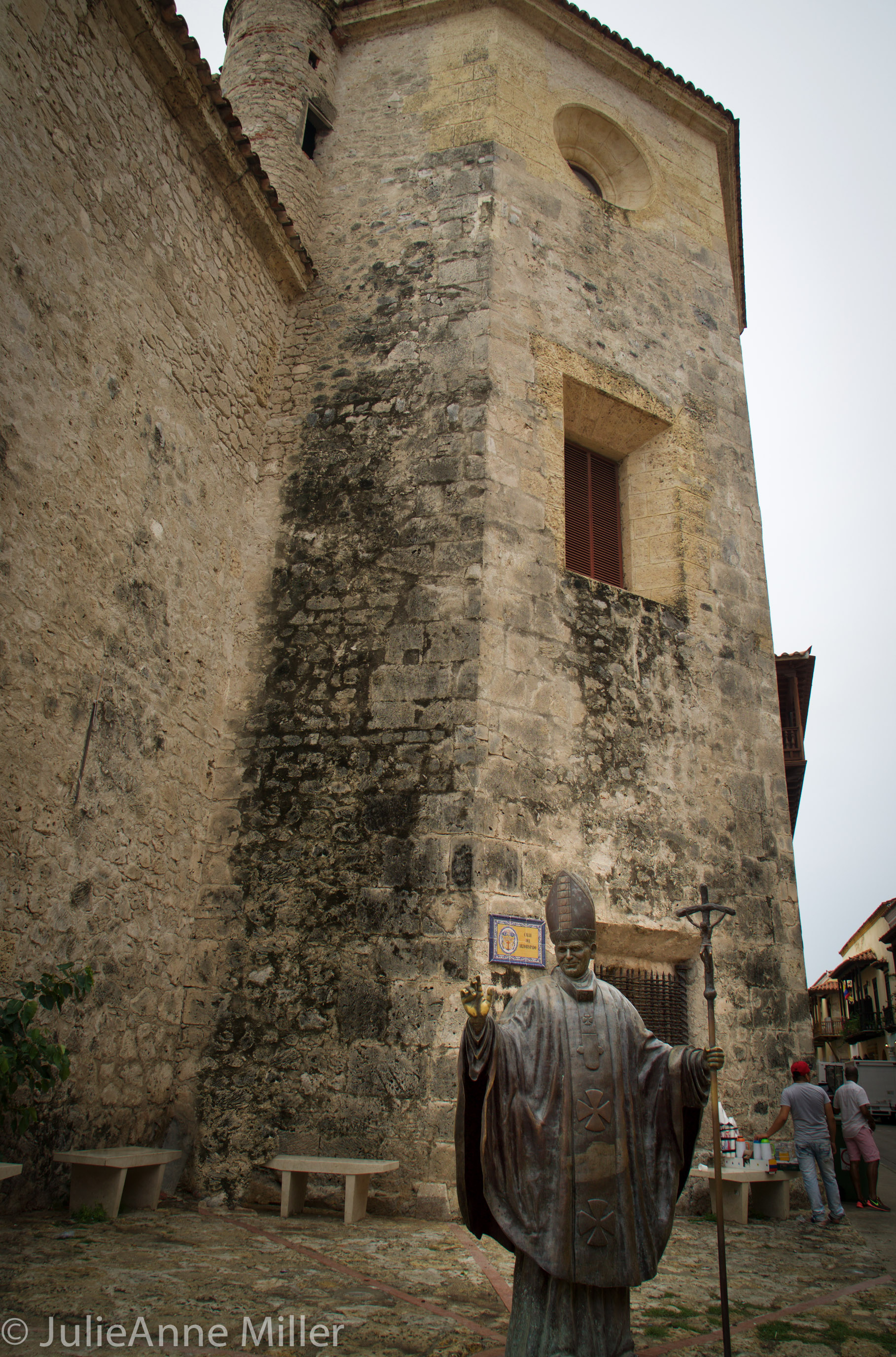 What I found most intriguing about Cartagena, Colombia, is the racial mix: the original Amerindian tribes, European settlers, and African slaves. Today, Colombia's people are colorful, beautiful, artistic and proud!
Almost immediately upon settling into the "new world", Spanish King Phillip III ordered the Catholic Monarchs to set up a court of inquisition in Cartagena in 1610. The Palace of Inquisition operated for two hundred years, torturing thousands and publicly executing over 800 non-Catholics found to be guilty of practicing black magic.
The Palace of Inquisition is now a museum housing various physical and multimedia exhibits showcasing prehistorical and colonial era artifacts, torture and execution devices used during inquisitions, and artwork. You can tour the entire museum in about an hour.
We spent about four hours walking through Old City. There are tons of stores, street performances, street food, art displays, museums, and just a general vibe and character to soak in.
We had dinner at La Mulata and it was superb! They served a plantain-chip appetizer and we ordered a bottle of white wine and seafood ceviche - a divine mix of sea bass, avocado, squid, mussels, and scallops (and no onions, per my request). #NoFoodNoLife
Rosario Islands
Rosario Islands National Park is probably among the most beautiful places of which you have never heard. I felt like we had the whole place to ourselves! Due primarily to the narco-war against the rebel FARCs, tourists generally shy away from Colombia. Albeit, a half century of internal sparring and almost 250,000 deaths and disappearances (80% of whom were civilians) are sure to put a dent in tourism. But the FARCs have been pushed into the country's interior jungle and a peace agreement is in the works (as recently as July 2016). I predict Cartagena is going to BOOM in the coming years and Rosario Islands will be a huge pull! I feel so fortunate to have experienced it now.
Again, Olga arranged this excursion for us (about US$30 per family). We joined the Belgian girls for a day of boating, snorkeling, and lunch on a private beach in Rosario Islands. After a half hour boat ride through the bay, we passed through an inlet (or outlet?) and village on the edge of Isla Baru that opened up to a sparkling, shallow coral sea dotted with tiny private islands. Oh shimmering greens and blues! How I love thee!!
Our local guides spoke zero English (at least to us). At our first stop, we linked up with another small boat. A guy held up a giant lobster and said something in Spanish. After a bit of back and forth coupled with much gesticulation, we determined he was saying "hey, this is lunch. do you want it or not?" We did and we ordered (roughly $25 per person). Our boat sped off, but halted a short distance later. Our guides handed us some snorkeling gear. That was our clue to jump in and feast on the underwater visual delight of the coral reef below. Once I got the hang of it (hint: blow-spit OUT when your mouth fills with salt water), I finally relaxed and enjoyed the multi-colored fish and magnificent reef just a few feet below the water's surface. After about an hour of snorkeling, our guides took us to a private beach for lunch -- and shopping, apparently. We were immediately accosted by a local artist named Ronaldo who proceeded to dispense his entire showcase on the sand. His work was actually quite good and my man C (eventually) negotiated him down to US$40 for three figurines, a turquoise necklace and matching earrings. He left with a salute to C, saying "good negotiating, man." #winning
We enjoyed about a half hour of sun-bathing and swimming, all the while watching a huge black cloud encroach upon our sunny beach. Our guides set up a table and chairs on the beach - we were the only people on this beach. Our freshly-grilled lobsters, along with plantain cakes, rice, and tomato salad, arrived promptly. All were delicious! Again, our Colombian guides were attentive and accommodating. One of our Belgian friends did not eat lobster, so they went the extra mile(s) to get her grilled chicken. Just as her food arrived, the guides told us to grab everything and run up the stairs. The storm broke just as we took cover in an empty house, wherein we finished eating, drinking, and discussing the world as the storm raged outside.
Once the skies finally cleared, we gathered again in the boat and headed back to Olga's Hotel Playa Maglares, where we finished off the glorious day with another round of mojitos!