Seoul to Gyeongju: Take the Fun Route
Cities and sites visited:
Hahoe Mask Museum (하회 탈박물관)

Hahoe Folk Village (하회 마을)
If you are traveling to the southeast region, such as Gyeongju or Busan, from Seoul and have an extra day, this itinerary offers a scenic, fun driving route. Jump in your car or rent some wheels, find Jungang Expressway #55 (중앙고속) and keep your camera ready. Factor in a whole day for this route. There is a ton to see, do and (of course) eat!
General Driving Guidance to Danyang: Use your GPS for accuracy! The route to Danyang will take you from Jeokseong Road 532 (적성로), to Danyang Road 5 (단양로), with a final turn onto Sambong Road (삼봉로). Your trip will end at a giant bend and lakeside park at Chungju Lake. Traveling on the highways from Seoul, you will pass through tunnel after tunnel after tunnel. Forget winding up and around a mountain; they just plow right through them. Efficient!
Your first stop on this scenic route is near the small city of Danyang. This park, situated on a giant bend in the man-made Chungju Lake (충주호), is a great place to stretch your legs and maybe get the blood pumping with a climb up the staircase to the temple on the hill. Along the way, you'll pass a natural arch. As we were taking our photo at the arch, three military fighter jets were drilling in the area. They flew so close we thought they were going to fly right through the arch! Because they were flying mach-whatever, there was no sound warning. By the time we heard the sound, they were gone. It was exhilarating!
There is actually quite a lot to see and do in Danyang. You could spend an entire day and more on a boat ride, exploring the temples, traversing Gosu cave (고수동굴), or hiking in nearby national parks. The town itself is biker and walker-friendly, too. But we're on a time limit, so let's keep going. Energized from the hike and fresh air, find your way back to Jungang Expressway 55 and continue to Andong.
Stop #2: Hahoe Folk Village and Mask Museum near Andong
General Driving Guidance to Andong: Leaving Danyang, head south on Jungang Expressway 55. When you get to the interchange for Route 34 (Gyeongseo Road, 경서로), you will head west, rather than east toward Andong, eventually taking Route 916 Jipung Road (지풍로) and Jeonseo Road (전서로) into Hahoe Village (하회 마을).
Rice paddies as far as the eye can see in this lush, fertile area. It's like time stopped here. The Hahoe Village and Mask Museum (하회 마을과 탈박물관), a UNESCO World Heritage site, takes you back about 200 years, to an era when peasants created masks (탈, "ttal") and staged elaborate satirical skits to poke fun at the wealthy class and rulers. Take the time to read the signs in the museum (they are in English), which explain the typical cast of characters and popular story lines. In addition to Korean masks, the museum also has an impressive display of masks and costumes from around the world.
You can hitch a ride over to the Folk Village on a tour bus, just outside the mask museum. While you wait for the bus, there are plenty of souvenir shops to keep you entertained. For the adventurous, buy a bottle of Andong Soju. It has a -- unique -- flavor. (I liken it to licking the bottom of a sweaty foot.) You gotta try everything once, right?
The folk village is a living history museum, where people live and work as their ancestors did for centuries. The town has a typical village composition, with scholar-class homes (yangban hanok, 양반 한옥) intermingled with thatched-roof peasant abodes (chogajeep, 초가집). Small gardens, fermenting pots, and red peppers drying in the sun showcase the village's character as you meander through the narrow dirt roads.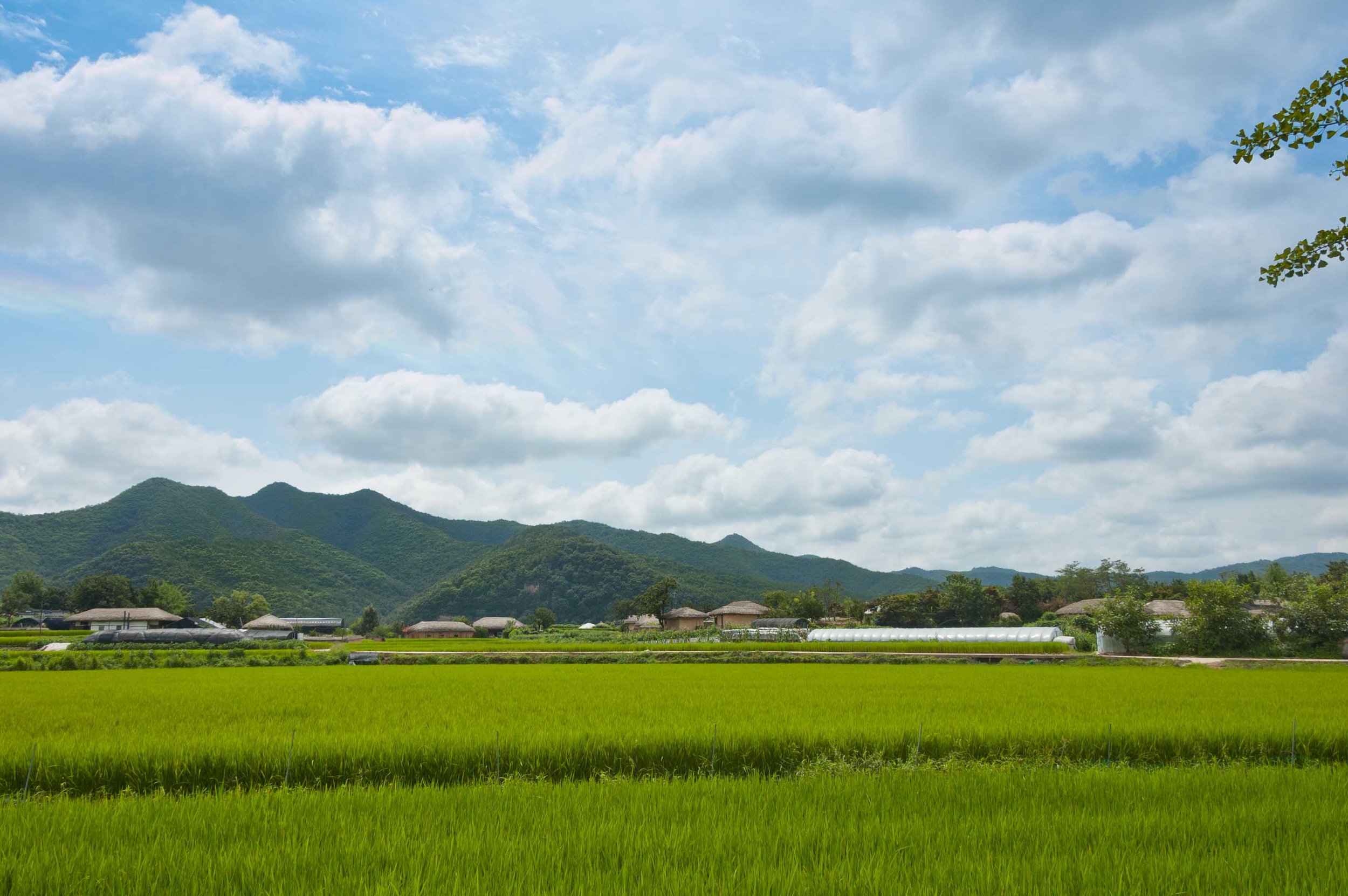 In the summer, the incessant rattling of cicadas permeates the air, serenading as you wander past the lotus fields, through centuries-old pine trees, down to the water's edge of the Nakdong River. Go ahead - dip your toe in. You know you want to! In October, a festival is held to reenact the entertainment enjoyed by the wealthy class (called "yangban" 양반). The seonyu-julbul-norie (선유줄불노리) is an impressive show that takes place on a boat in the middle of the water, with fire theatrics and singing.
Decision time: Andong is famous for spicy chicken stew (찜딹, "jjim ddak") and salted grilled mackerel. But our next stop is Yeongdeok, where there is only one thing on the menu: king crab! Tough choice; personal decision.
Stop #3: Dinner in Yeongdeok
Do you love king crab? If not, skip this stop and just head to Pohang because there is no other reason to go to Yeongdeok except to eat king crab.
General Driving Guidance to Ganggoo Harbor: From Hahoe Village, find your way back to Route 34, this time heading east through Andong and Yeongdeok. Merge onto Donghae Highway #7 (동해대로) south and turn left onto Yeongeokdaege Road (영덕대게로). Greetings from a giant crab will inform you that you've arrived in Ganggoo Harbor. Try not to scream.
We will actually be heading a little east of Yeongdeok (영덕), to Ganggoo Harbor (강구항). The word for King Crab in Korean is "daege" (대게), or "great crab". Here in Ganggoo, they specialize in catching, serving, and shipping the best (the greatest!) king crab in Korea. I covered this in a blog post, but in case you missed it, you will be greeted by larger-than-life crab grasping buildings, suspended from bridges, and smiling from awnings. As you wander the town, you will discover that there is nothing else to eat or do or discover here. So, settle in and order some crab!
There are dozens of daege restaurants, which I found slightly funny. I mean, how many ways can you steam a crab? It's a small town, so you will not get far haggling over price (they will all tell you the same price). Expect to pay about $50/crab, depending on the season. Sounds like a lot, but one crab fills a lot of bellies! After you and your crew have had your fill of sweet, soft heaven, the shop owner will then boil the shells, strain, and add vegetables and tofu for a wonderful stew. Trust me, you will not leave hungry!
The sun should be near-setting by now. It's been a long day. We have still have one more stop. It's pretty cool, so let's jet.
Stop #4 Pohang Harbor to View the POSCO Plant
General Driving Guidance to Pohang: Leaving Ganggoo Harbor, find your way back to Route 7 and head south. Take Buljong Road (불종로) east to Jungang Road #925 north (중앙로). Take Seodong Road (서동로) to Huimang Hope Highway (희망 대로). You will arrive at Songdo Beach.
Warning: geek alert. I don't know why, but I have a fascination with factories. They can be ugly and beautiful in the same glance. They can be icons of pollution and inequality, or engines of growth and a way out of poverty. This site isn't going to judge. I think a trip to Pohang Harbor to see POSCO at night is worth the drive. The factory reminds me of Dr. Seuss, with the red and white stacks billowing steam into the back-lit sky. Carnival lights chase each other across pipelines and transport chutes. It's quite a show.
Headquartered in Pohang, POSCO is Korea's largest steel plant (think: US Steel), but they also produce fertilizers, chemicals, and all sorts of other manufactured products. POSCO is among Korea's chaebol, or family dynasties (like the Rockefellers or Carnegies).
You will view the factory from Hope Highway, across the bay from the Songjeong area (송정동). There is a recreational area along Hope Highway, with a walk and bike path, pavilions, basketball and tennis courts, and exercise equipment. There is an "upper" park and "lower" park. Walking down the steps puts you near the water; walking up, you'll be on better-lit trails along the road. If you are traveling alone, the darker areas along the water may not feel safe. Either way, you'll get a great view of POSCO's night show.
You are probably pretty tired by now. Time to head to your final destination, lay your head on a pillow and catch some zzzzzz's. Saecheonnyeon Highway #7 (새천년대로) takes you straight to Gyeongju. If you're heading further south to Ulsan or Busan, you'll want to locate Gyeongbu Expressway #1 (경부고속) after Gyeongju. Sweet dreams of lake temples, masks, king crabs, and Dr. Seuss!
If you like this post, consider sharing it! And connect with us on Instagram, Twitter, Pinterest, or Facebook. We would love to see photos of your trip to South Korea!