3 Days in Hallyeohaesang National Park, South Korea
Sites Visited:
Oe Island (외도)

Hakdong Pebble Beach (학동 몽돌)

Haegeum Peninsula (해금강)

View of Maemul Islands

American & German Expat Villages (미국마을, 독일 마을)

Botanical Art Village and Sunrise Art Town (원예예술촌, 해오름 예술촌)

Gacheon Village (가천 다랭이 마을)

Seoli Beach (설리 바닷가)

Silk Mountain (Geumsan) Peak and Boriam Temple (남해금산, 보리암)

Yi Su Shin Museum (이수신영상관)
As you can see from the map above, Hallyeohaesang National Park (한려해상국립공원) spans a large area. Located just 40 minutes west of Busan ( 부산), the park is 210 square miles of islands, waterways, and marine diversity. This three-day driving itinerary covers two of the six districts: Geoje and Namhae. This area of South Korea was difficult to navigate until recently. As a result, the small villages remain culturally authentic, untouched by modernization (although this is changing rapidly, so hurry up and go there!). In addition to sandy beaches and mountain top temples, quirky villages catering to repatriates and art enthusiasts abound!
**Note: We rented a van and experienced driver, which proved worth every penny. Familiar with the typical scenic destinations, our driver navigated while we relaxed, laughed, shot photos from the window, and enjoyed just being on vacation. Following long days in the sun, we would catch up on sleep while he drove us back to our pension house or on to the next location. It was an ideal way to travel the 200-miles of Hallyeohaesang National Park.
Leaving from Busan in the early morning hours, head to Geoje, the first of many islands in Hallyeohaesang National park. Thanks to the opening of the Geoga Bridge (거가대교) in 2010, what used to be a 3 hour trip by ferry now takes just 40 thrilling minutes. Traveling west from Busan, the road to Geoje Island plunges into the world's deepest underwater tunnel, then climbs sharply back into the sunshine halfway across the bay onto a gleaming suspension bridge. From there, the road zigzags along craggy sea cliffs, past tiny fishing hamlets, and through colorful tunnels. A visual delight!
Your first excursion here is a ferry ride to Oe Island (외도, "Way-do"). An ambitious couple had a vision and some major talent, transforming the tiny island into a botanical paradise that is now open to the public. The walking tour takes exactly two hours (or the ferry leaves without you!), winding through tropical trees, manicured topiaries, radiant flower gardens, grecian statues and playful sculptures. Hidden speakers serenade My Old Kentucky Home, church choir style (giggle).
If the salty sea air makes you hungry for grilled fish, I suggest lunch at Mangchi Grill (망치구이 마당) in Geoje. Delicious fire-grilled mackerel! Then head to Hakdong Pebble Beach (학동 몽돌 해변). Strolling along the smooth stone beach is like a free reiki massage, relieving pressure points and restoring peace of mind. The sound of tumbling pebbles as the waves retreat is soothing ambiance. There are food and game stands at Pebble Beach or you can rent a colorful shade tent under which to lounge away the day. The sound alone is worth the stop, regardless of time spent here.
Continue driving along the coast of Geoje Island, along Haegeumgang Road to a cliff walk leading down to a white sandy cove. The expansive view resembles Big Sur in California, with crashing waves tossing frothy sea foam high onto the rocky cliffs. It's the perfect spot for a jump shot!
As the sun begins to descend and the shadows lengthen, a harrowing, bumpy journey up a single-lane dirt road takes you to a secluded mountaintop overlook. Watch the procession of shrimp and fish boats return to port, where they'll greet the squid catchers heading out for night duty.
The Tongyeong-Daejeong expressway #35 takes you off Geoje Island and back onto the mainland. Heading to your pension house for the evening, raid a market — buy some pork, veggies, snacks and lots of soju. Fire up the grill and celebrate a fabulous day!
Day 2: Namhae Island Art Villages
Early morning view from Sea Love Pension (해사랑 펜션, "hae sarang pension") on Namhae Island…
Art is the window into a culture's soul, transmitting emotion, history, and contemporary feeling without the burden of language. Today, you will explore the soul of Namhae, where you will find her to be fun, vibrant, and a little playful, with love for those who have gone abroad and preparing for their return.
Namhae has two repatriate villages -- American and German. The neighborhoods were created to entice Koreans living abroad to return home. The single-family homes are larger than average Korean houses, with yards and gardens, mailboxes and flagpoles. A California surfboard hung on the side of a garage, a Texas state flag, a Washington Redskins mailbox: clues to residents' former lives. The neighborhood is quiet and the view of the Aenggang Bay (앵강만) beyond golden acres of rice paddies is stunning!
The German Village features orange roofed bavarian-style homes. Since it is primarily residential, explore the horticulture and art community across the street called 원예예술촌 ("Wonyae yaesul chon"). Walking paths wind past lovely cottages surrounded by botanical gardens, ornamental sculptures, and whimsical works of art. A few cafes offer coffee, lunch, and dessert. If you visit in summer, the weather will be hot, humid and perfect for ppatbingsu (팟빙수) topped with strawberry ice-cream!
History Note: During the 1960's, Koreans were invited to Germany under the guest worker Gastarbeiter program. Thousands of Korean expats still live and work in Germany. You can see the influence of repatriates in Seoul, where many German-influenced bars serving primarily beer are called Hof (호프).
Continuing the art theme, the next stop is Sunrise Art Town (해오름예술촌, "hae oreum yaesul chon"). This local arts cooperative is housed in a renovated school and offers a wide variety of hands-on cultural and art workshops, such as ceramics, painting, tea etiquette, wine-making, fabric dying, and more.
Gacheon Daraengi Village (가천 다랭이 마을) is becoming a popular tourist destination in Namhae. Steep terraced fields slope down to the sea and colorful rooftop paintings invite travelers peering down from the highway overlook to explore the small hamlet. Put your walking shoes on because the narrow streets are steep! But the calf stretch is worth it to see the artwork along the town's walls! At sea level, boardwalks and swinging bridges provide access along the rocky shore. On the return climb, friendly ajummas offer a refreshing sip of rosemary tea and a cool spritz of herbal skin tonic. Gacheon Village is part of a rural revitalization effort that I talked about in a prior blog post. Pretty cool program run by the Korean Ministry for Food, Agriculture, Forestry, and Fisheries (MIFAFF).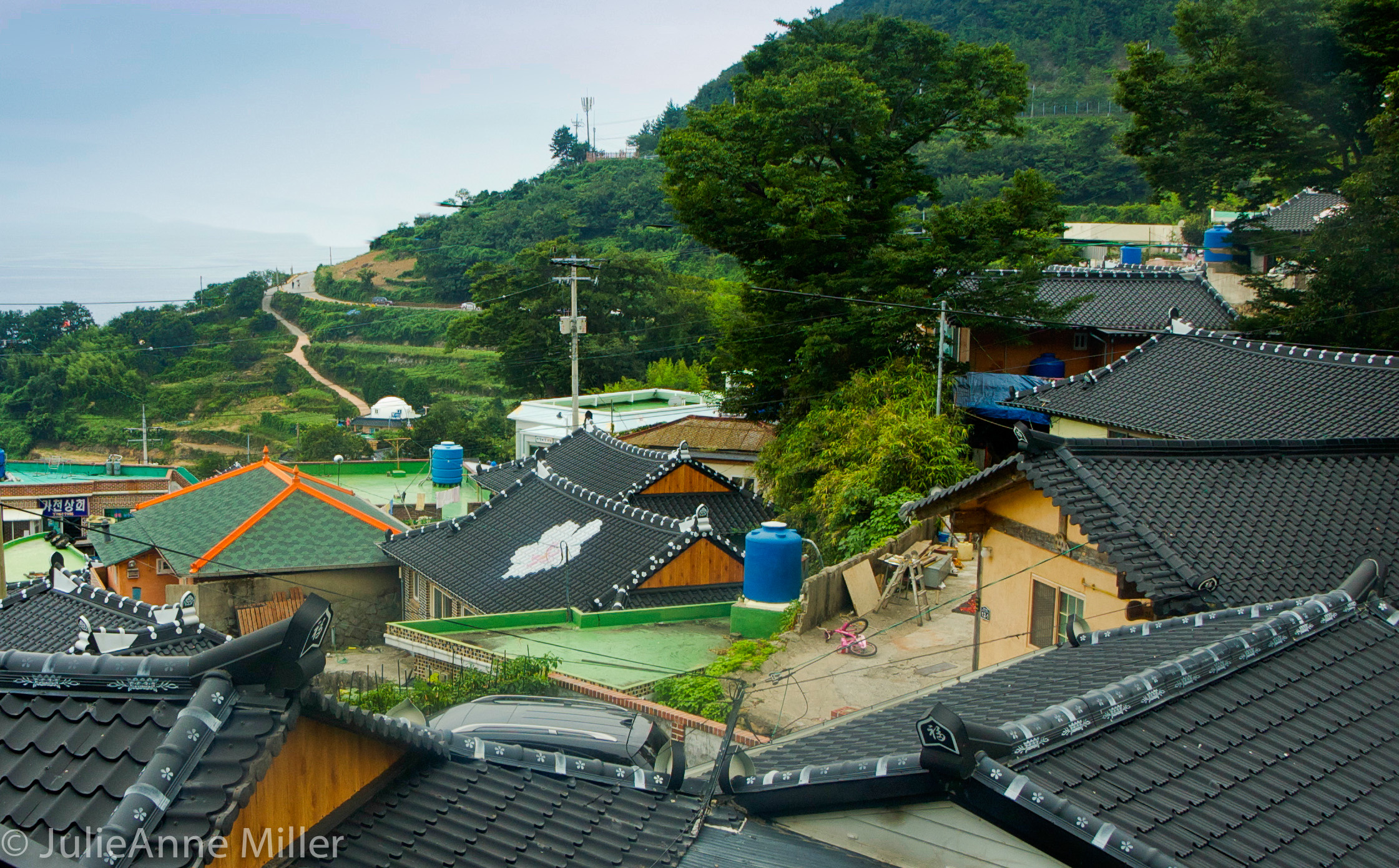 Strangest Food Experience: I usually love Korean cold noodle soup (냉면, "naeng myon"). At an unknown restaurant somewhere in Namhae, the naeng myon was (ahem) unexpected. Since I don't have a photo, imagine this colorful combo floating in an ice-cold clear broth: green noodles, a tomato, half a hard-boiled egg, watermelon, skate fish, cucumbers, and gochujang. I'm not going to lie - it was odd. 'nuff said.
Day 3: Namhae Island Hiking
Sea Love Pension has a wonderful abalone porridge (전복죽, "jon boke juke") restaurant. Even if you don't stay at Sea Love Pension, I highly recommend a hearty breakfast here. The food is wonderful!. It will provide you good fuel for your hike today in the Silk Mountain (금산, "geum san").
Note: Korean words often have chinese roots. The term "geum" 금 can mean gold 金 or it can mean silk 錦, depending on the original chinese character. In this case, the chinese character for silk is used. Geum San 錦山 = Silk Mountain (not gold).
Although Korea's mountains are not particularly high, hiking in Korea is never easy. Instead of paths that zig-zag at a gradual rate of ascent, trails in Korea often go straight UP. The hand-hewn rock staircase in Geumsan is no exception. It's quite a workout, but the view from the double-rainbow cave (쌍홍문, "ssang hong mun") makes all the blood, sweat and tears worth it!
Now shhh. Listen closely. Chanting monks will beckon you just a little further up to Boriam Temple, one of the holiest temples in Korea. Believed to have been built by Buddhist monk Wonhyo in the Shilla period (sometime before 935 A.D.), many of the Buddhist artifacts here were transported by ship from India by an Indian Queen. The actual remains of the Buddha are believed to be buried below the 3-story pagoda; it's said that a compass placed on the pagoda cannot locate the direction. Mysterious!
From Boriam, a few hundred more yards through a bamboo forest takes you to the summit, which opens up with a 360 degree view. This area is called Mang Dae (망대) or Observation Tower, used for centuries as a signaling station.
Sweaty and tired, nap if you can on the way to Yi Su Shin museum (이수신영상관), your last stop in Hallyeohaesang National Park. Yi Su Shin (1545-1598 A.D.) arguably ranks among the world's most brilliant naval officers. He never lost a single battle and is credited with saving Korea from numerous Japanese assaults during the reign of Toyotomi Hideyoshi, including the most famous Battle of Myongnyang during the Imjin War that pitched Yi's 13 korean "turtle" ships (거북선, "geobukseon") against 130 traditional Japanese ships! The turtle ship was the world's first iron-clad ship, developed 300 years before iron-clads achieved widespread use during America's Civil War in the 1860's. Yi is credited with designing the turtle ship.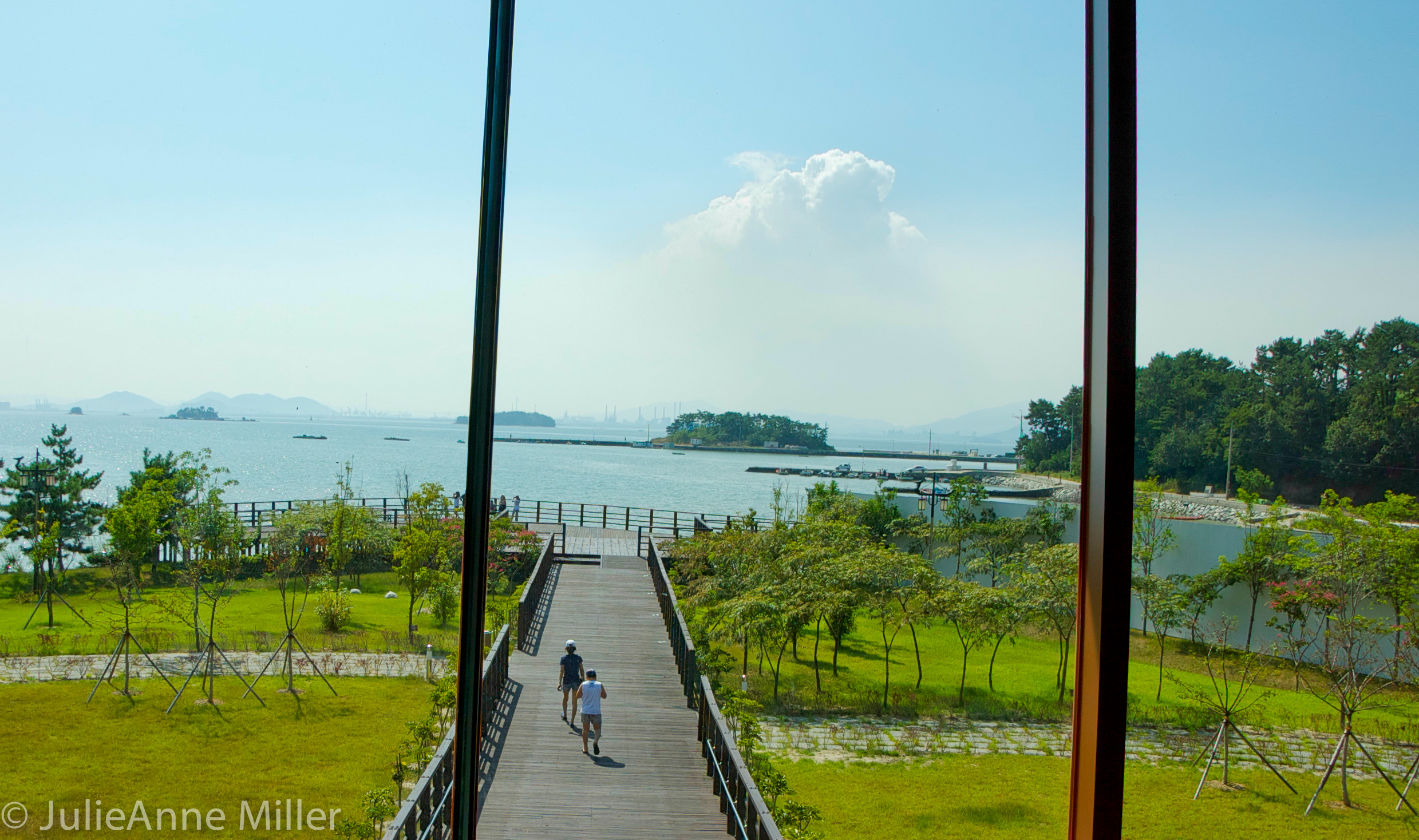 The Yi Su Shin museum in Namhae is excellent! Wall panels in Korean, Japanese, Chinese and English provide a chronological description of Yi's life and battles. The 3-D movie with English subtitles brings the drama to life. The museum also features numerous exhibits of the ships, weaponry, and military attire. As you exit the rear of the museum and look out across the bay, you can imagine the ships lined up in battle formation, the smell of smoke, the roar of cannons! Thrilling!
If you like this post, consider sharing it! And connect with us on Instagram, Twitter, Pinterest, or Facebook. We would love to see photos of your trip to South Korea!